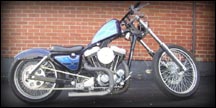 Welcome to FlameThrower Customs...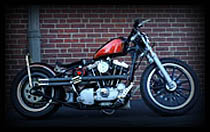 FlameThrower Customs is a multi-service motorcycle and chopper shop located in Doylestown, Ohio. Look through our website and contact Steve any time via phone at 330-658-2805 or 330-604-6559 (text also), or via e-mail at sehennis@yahoo.com.
We've been involved in the motorcycle custom-painting scene for several years, producing a wide range of highest-quality yet reasonably-priced custom designs. Our designs range from old-school hot-rod flames and scallops to intertwined flames, ghost flames, racing stripes, low-rider laser-stripes, lacework, panel-style, retro-70s, skulls, pin-up girls, pinstriping, or any other airbrushed graphics or artwork that you like. Kandies, metallics and pearls are the norm here at FlameThrower. We've received tins from locations all over the U.S., Canada, and Europe... which have been custom-painted and safely shipped back.
All custom paintwork is performed using highest-quality materials, particularly House of Kolor ("HOK") paints and clearcoats. All designs are "double-dosed" with HOK clearcoats, totaling at least six coats - then wet-sanded and buffed to a high-gloss, mirror-like finish. The designs and workmanship are first-rate, but the prices are reasonable. Check out our website for some ideas, then call or e-mail anytime for a consultation or an estimate.
We also develop and machine custom parts for your bike. Parts include one-of-a-kind foot controls, air cleaners, pegs, motor mount plates, kicker-pedal inserts, hard struts, exhaust tips and more. Check out our website for some ideas, then call anytime for a consultation or estimate on your ideas or requests.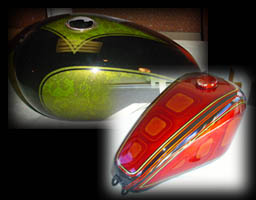 Maybe you want to completely re-work your entire bike or re-create it into the chopper you've always wanted. FlameThrower Customs can take on such turn-key projects and build bikes to your specific requirements. We can start from your own bike or build from scratch. Check out the custom choppers on our website for ideas, or we can build from any requirements that you have.
&nbsp