About Us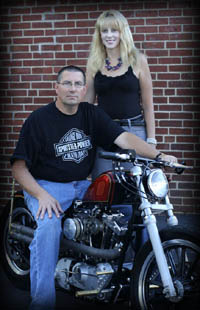 FlameThrower Customers is essentially a one-man operation. Steve Hennis (that's me) is the owner, designer, painter, mechanic, assembler, machinist and janitor. After a misspent youth around vintage musclecars and hot rods, I purchased a used 1994 Sportster XL1200 and immediately fell in love with bikes and customizing bikes.
Although FlameThrower may be a one-man operation, my "support crew" includes my wife and our four young sons. If you call and my wife or one of the boys picks up the call... just ask for me or leave a message with them. If nobody answers just leave a voicemail message... we're likely at our "day jobs" or I'm out coaching one of our boys' baseball, basketball, football or soccer teams.
My wife and I both have regular day-time jobs in Corporate America, so FlameThrower Customs remains a very interesting and active "side business"... at least for now. Ultimately, custom bikes are my passion... not pushing paper in Corporate America!
We are located in the sleepy little suburban town of Doylestown, Ohio. But down in the spray booth paint is flying and out in the machine-shop the chips are piling up.